Reshaping
with
AI
the
programmatic
industry
AI provides speed, accuracy and efficiency that a human can't
Every brand and campaign goals are unique, and so should its targeting
Our AI-Powered technology, provides advertisers with fully personalized generative AI Targeting for their campaigns resulting in eliminating +28% in waste impressions compared to a traditional programmatic campaign.
Experience the
power of artificial intelligence (AI),

redefining how you interact with programmatic media.
We employ advanced AI technology to determine the

optimal moment

and the most receptive environment to ensuring your message resonates where it matters the most.
Display, Video, Rich Media and Native
We target your audience by a wide range of targeting options to effectively reach and engage your target audience with the right format
Contextual Targeting, Premium Audiences (First party and Third party), Vertical Categories, Proprietary Whitelists, Geofencing, Demographics, Languages, Technical variables (Browser, Operating System, Device Type, Screen Size,…), Interest and Intent Audiences…
Outstream, Instream (Pre-roll, Mid-roll, Post-roll), Native Video, Rich Media with Video…
Stunning rich media formats customized for each campaign. The best performing format are: Botchat, 3D animation applied to Facebook Feed, Rich Media with Local Climate data, Story Telling, Interactive Video, … See Formats section to see some examples.
Analytics provided in Real Time:
Engagement KPIs like Viewable quartiles, Overall Viewability and any engagement interaction with the format.
Objective to be defined by the client:
Viewability, VTR, engagement rate, page visit time, bounce rate, sales, leads, conversions, number of content readings, CTR,…
Business models defined by the client:
CPM, CPC, CPA, CPL, CPV and CPE.
Real Time data and Analytics are accessed via Dashboard (see below Dashboard section for more info).
Drive your consumers to your physical store
We identify and target audiences based on their location history and distance to the store. Our algorithms identify the most valuable consumers and we display mobile ads to them on behalf of retailers. These ads are drive in-store traffic. We drive foot traffic to your physical stores and boost sales.
Usually include Video Promotions, Discounts and Promo information, each store's address, phone number and a map displaying where the store is located. See section Formats for more information.
Drive visitors to physical stores. We also use incremental KPIs that really help to measure the Real impact of the campaign.
Target Audiences (Fashion, Gourmets Shop Visitors, Pet Owners,…), Geotargeting (e.g. 1 mile around the shop), Demographic audiences, App Usage Target Segmentation,…
Key KPIs are number of visitors to physical stores and Uplift (kpi measuring the incremental effectiveness of the campaign).
Real Time data and Analytics are accessed via Dashboard (see below Dashboard section for more info).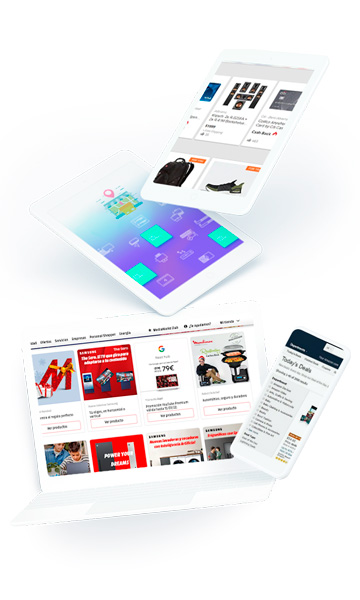 Audiences based on real-world consumer behavior
We build highly-customized, scalable audiences based on real-world consumer behavior. You can reach the right consumers with the right message every time. Tailor your audiences to fit specific campaign KPIs with granularity and transparency. Biznaga Media Strategy team helps with planning, targeting recommendations, and custom segment creation at no additional cost.
Target consumers based on their Past o Live Geographical Behavior using GPS mobile technology:
Geofencing Live Behavior Examples
users that are currently commuting to work, users that are currently in a high-end restaurant, users that are within a mile close to any of your chain stores, users living in a specific area,…
Geofencing Past Behavior Examples
users visiting a competing stores last month and let them know your new e-commerce or new offers, users that visited your chain store during the last year, users that visit a fitness gym within the past 30 days, users that went to a music festival 3 months ago, users visiting 2 times a Ford dealership this month, users visiting an airport 3 times this month …
Real Time data and Analytics are accessed via Dashboard (see below Dashboard section for more info)r more info).
We develop digital experiences that close the gap between brands and customer needs
Our Fully Personalized Creativities
Certifications & supported standards
The technology we use maintains the following industry standards and certifications
Real time custom dashboard
Understand your digital advertising data and monitor your progress in real-time. Get meaningful custom KPIs real-time, so you can take informed decisions about your campaigns